...and I will be stalking it often!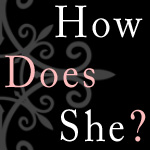 How Does She
is chock full of tips and tricks and all kinds of Need To Know stuff for Busy Moms & Wives.
Amazing gift ideas, recipes, coupons, household tips, craft ideas & tutorial links, giveaways... I could go on and on :*)
My favorite so far has been the
Neighbor Christmas Gift ideas
! I am soo stealing these for the Secret Santa Swap I am in at work.
So love!